Words in Azerbaijani
In this lesson we will learn the Azerbaijani vocabulary about objects in the house.
Words on the topic house in Azerbaijani
For most, the house is not only a structure made of reinforced concrete or brick, but consists of people waiting to return home every night. We think that words on the topic house in Azerbaijani will be useful for increasing Azerbaijani vocabulary about objects in the house. It will also be useful for travel lovers who want to explain their wishes for a hotel room to the manager at the reception, and of course a great way to repeat familiar words in Azerbaijani and replenish the dictionary words on the topic house in Azerbaijani.
What is the difference between ev and mənzil?
In Azerbaijani, the house is called "ev". The Azerbaijani language also has the word "mənzil". Both words mean home. So what is the difference between ev and mənzil? "Ev" is a 1-storey and more storey house, in which only one family lives. "Mənzil" is an apartment building in which individual families live in a large number of apartments located in the same building.
In addition to the Azeri words for house, you should also know other words in Azerbaijani for Rurniture. You can also use other articles on our site. It would also be nice to know words in Azerbaijani on the topic: Kitchen. Each of these lessons will increase your vocabulary and you will know all the words in Azerbaijani for that topic.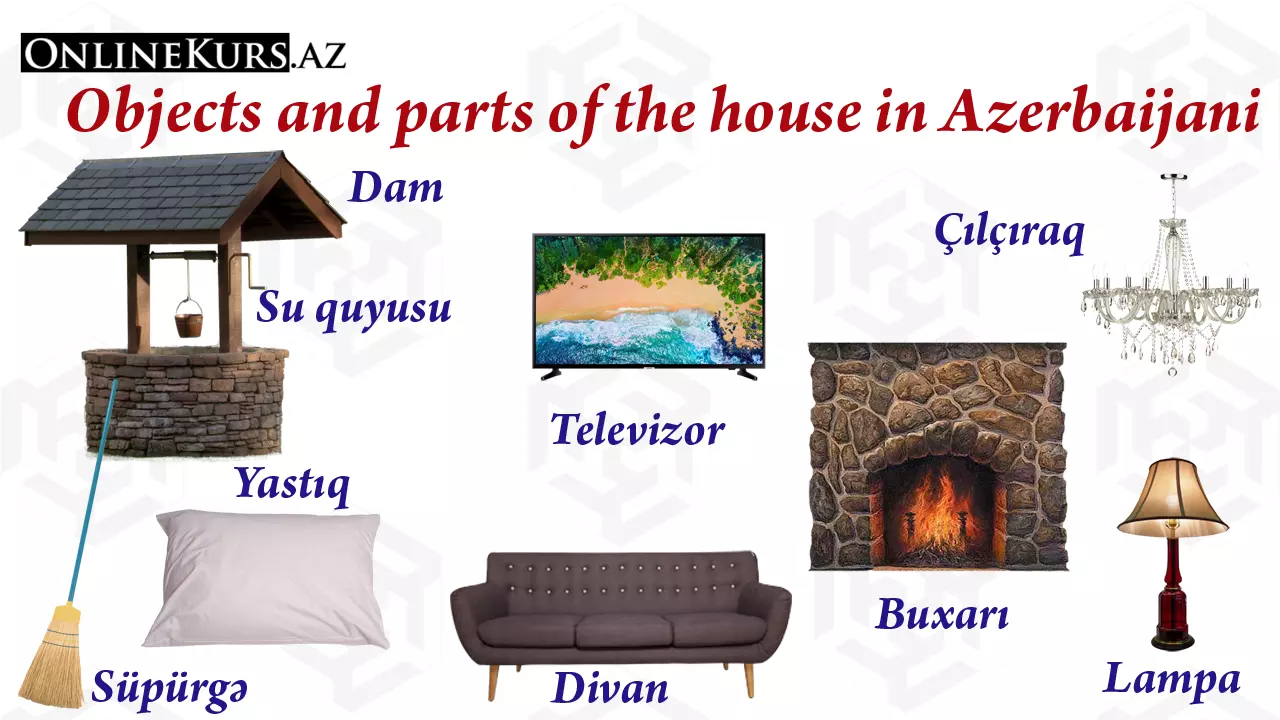 In the Azerbaijani language, you can also find the word "bağ evi". We call it a country house in English.
Proverbs about house in Azerbaijani
"Gəzməyə qərib ölkə, ölməyə vətən yaxşı" - It's good to travel abroad and die in homeland ( East or west – home is the best. )
"Evdə xoruz, bayırda toyuq" - Cock at home, but hen outside ( a proverb used for those people who dominate at home or on their relatives or parents, but are afraid to demonstrate the same for strangers.)
"Atasız uşaq tavansız ev kimidir." - A child without a father is like a house without a roof.
"Qapıdan qovursan, bacadan gəlir." - Expels from door, it comes from chimney. (This proveb about impudent peaople that you want to get rid of but can't.)
"Uşaq adamı qanlı qapısına aparar." - The child takes the man to the bloody door. (Enemy in Azerbaijani is - "düşmən", but there is also a word in Azerbaijani "qanlı" ( bloody ) in the same mean, but used in a figurative sense. This proverb says that parents can go even to his enemies house for their childs. " Düşmən qapısına getmək" ( to go to the enemies door ) is a phraseological combination, which means to ask or beg from the enemy),
"Qonşunun qədrini bil, amma çəpəri arada saxla" - Appreciate your neighbor, but keep the fence in between
"Allah dəvəyə qanad versəydi, uçurmadığı dam qalmazdı." - If God gave the camel wings, there would be no roof left that it did not destroy. ( It's good that bad people do not have power and authority. If they had all this, they would destroy everything around. )
Pronunciation of the words in Azerbaijani
| | |
| --- | --- |
| | House |
| | Door |
| | Front door |
| | Gate |
| | Wall |
| | Fence |
| | Roof |
| | Chimney |
| | Window |
| | Well |
| | Clothesline |
| | Scarecrow |
| | Bathroom |
| | Shower |
| | Tub |
| | Toilet |
| | Towel |
| | Bedroom |
| | Lamp |
| | Mattress |
| | Blanket |
| | Pillow |
| | Rug |
| | Living room |
| | Couch |
| | Carpet |
| | Chandelier |
| | TV |
| | Curtain |
| | Fireplace |
| | Tablecloth |
| | Broom |
We believe that the education should be free and available to everybody. This is why some time ago, we made a decision to continue developing as a completely free network. But we need the support of our readers to continue creating new content, keep the development going and pay related expenses. If you like what we do and find it helpful, consider supporting us by making a donation.